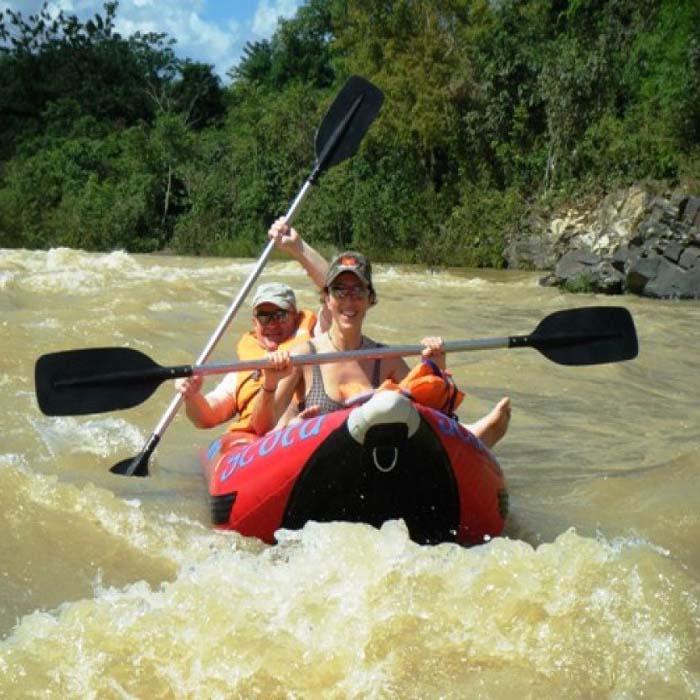 What To Expect
Challenge yourself with rafting down stream with distances about 8 km.
Highlights
Enjoy a day away from the hustle and bustle of the city
Rafting navigate a river and explore the life of the communities that inhabit the riverbank
Enhancing teamwork by dealing with risk to overcome obstacles together
Specifications
Meeting Point:
Hotel pick-up
Product Code:
E.A.T/DAY/VIE/NHA-FUL2
Description
Challenge yourself with rafting down stream with distances about 8 km.
Rafting and white water rafting are recreational outdoor activities which use an inflatable raft to navigate a river or other body of water. This is often done on whitewater or different degrees of rough water, and generally represents a new and challenging environment for participants. Dealing with risk and the need for teamwork is often a part of the experience. The development of this activity as a leisure sport has become popular since the mid-1970s, evolving from individuals paddling 10 feet (3.0 m) rafts with double-bladed paddles to multi-person rafts propelled by single-bladed paddles and steered by a tour guide at the stern. It is considered an extreme sport, and can be fatal. The International Rafting Federation (IRF) is the worldwide body which oversees all aspects of the sport.
Otherwise known as the International Scale of River Difficulty, below are the six grades of difficulty in white water rafting. They range from simple to very dangerous and potential death or serious injuries.
Grade 1: Very small rough areas, might require slight maneuvering. (Skill level: very basic)
Grade 2: Some rough water, maybe some rocks, might require some maneuvering. (Skill level: basic paddling skill)
Grade 3: Whitewater, small waves, maybe a small drop, but no considerable danger. May require significant maneuvering.
Grade 4: Whitewater, medium waves, maybe rocks, maybe a considerable drop, sharp maneuvers may be needed.
Grade 5: Whitewater, large waves, large volume, possibility of large rocks and hazards, possibility of a large drop, requires precise maneuvering.
Grade 6: Class 6 rapids are considered to be so dangerous that they are effectively unnavigable on a reliably safe basis. Rafters can expect to encounter substantial whitewater, huge waves, huge rocks and hazards, and/or substantial drops that will impart severe impacts beyond the structural capacities and impact ratings of almost all rafting equipment. Traversing a Class 6 rapid has a dramatically increased likelihood of ending in serious injury or death compared to lesser classes.
Detailed Itinerary
09h00: Minibus and tour guide pick you up from selected hotels in Nha Trang
10h00: Start to rafting, down stream with distances about 8 km. The biggest rapids are class 2 & 3 (safety for the beginners)
12h00: Visit fruits garden and enjoy tropical fruits12h45: Have lunch BBQ and drinks
13h00: Continue rafting
15h00: Finish rafting15h30: Minibus and tour guide take you back to hotel
Things Should Bring:
Sport shoes
Swimming suit
Towel
Cap
Includes
Hotel pick-up and drop-off at selected hotels in Nha Trang.
English-speaking guide
Land transfer by air-conditioned vehicle
BBQ lunch
Excludes
Personal expenses
Meals and drinks unless specified
Tips and gratuities
Optional activity costs
Please Note
Children below 2 years old are free of charge.
Exact pick-up time to be advised upon reconfirmation.
Pick-up is available for clients staying at selected hotels as meeting point only: Hai Au, Balcony, Alana Beach and Amiana. Clients staying at the others must proceed to the meeting point.
To select your travel date, you are advised to choose at least 03 days prior to start date of activity.
Private tour is operated with just your party and a guide
The regular tour has a 2 passenger minimum requirement for operation and is subject to cancellation if this minimum is not met. You will be informed at least 24 hours prior to departure to confirm schedule. In the unlikely event of such a cancellation, guests may request another tour, a different travel date or a refund.
Cancellation Policy
Free cancellation: 3 days or more prior to start date of activity.100%
Cancellation Fee (no reimbursement): less than 3 days prior to date of activity.