Sharing a Room (Double/Twin)
January to April / October to December
Contact US
Contact US
May to September
Contact US
Contact US
Prices shown are per person based on a party of at least 2 adults traveling together. The Single Room Supplement cost is in addition to the twin sharing cost for those who would like a single room. If traveling alone, please contact us for infomation.
Tour Includes:
Hotel with daily breakfast, 1 night on board well-appointed ship in Halong Bay, lunches & dinners as indicated, English speaking local guides, entrance fees to sites listed on the itinerary, private A/C transportation with expert drivers, Overnight Train and airport transfers.
Tours Excludes:
Meals and drinks unless specified
Personal expenses
Tips and gratuities
Optional activity costs
Peak season surcharges may apply.
International & Internal flights are not included, please enquire.
Tailor-made:
Interested in this itinerary but would like to make changes to the hotels, destinations, sites, or anything else? Contact us at [email protected] to customize this itinerary just for you.
DAY BY DAY ITINERARY
Day 1 – Arrival in Hanoi VN
Xin chao! Welcome to Vietnam. Your adventure begins with a Welcome Meeting at 6pm on Day 1. Please look for a note in the hotel lobby or ask the hotel reception where it will take place. Tonight, your first introduction to Vietnam's lively culinary scene comes in the form of be bia hoi. This is a foamy, light beer made fresh each day and served in basic, open-walled 'brew halls'. Take up a brightly coloured plastic chair and sip your tasty brew. Banana flower salad (nom hoa chuoi), barbecued chicken (ga nuong) and fried rice (com rang) are common dishes on the menu.
Overnight in Hanoi
Meals: Dinner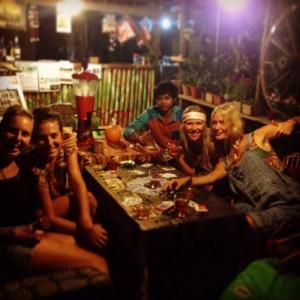 Day 2 – Hanoi
Start the day with a traditional breakfast of pho, a dish that originates in Hanoi and is designed to awaken the senses and prepare you for the day. Then it's time for a guided tour of Chau Long Market, where you will learn all about the ingredients and flavours of northern Vietnamese cuisine. Get involved in a betel nut demonstration. The more daring can try a fertilized egg or silk worm. You'll also sample the local coffee, typically served with yogurt or black sticky rice with yogurt. Hanoi is renowned for its legendary street food dishes and Dong Xuan Market is one of the best places to go for it. Enjoy lunch here alongside the locals. Today you'll visit the Hanoi Cooking Centre to learn the secrets of northern Vietnamese cuisine. Discover some old Hanoian favorites like caramel pork as well as some lesser known dishes from the highlands. Enjoy the fruits of your labour for dinner. You will also stop in at one of the city's hidden teahouses, where you might sample some varieties – perhaps green or white tea infused with flowers.
Overnight in Hanoi
Meals: Breakfast / Lunch / Dinner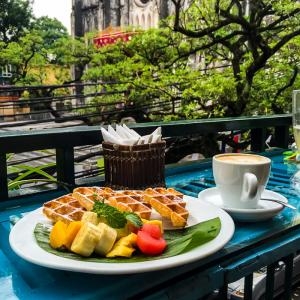 Day 3 – Hanoi - Halong Bay
Travel by private minibus to the spectacular World Heritage-listed site of Halong Bay (approximately 4 hours). Halong Bay is a secluded harbour with 2,000 limestone islands rising from the turquoise waters of Bac Bo Gulf. This is one of Vietnam's most scenic regions. It spans an area of about 1,500 square kilometres and is dotted with innumerable beaches and grottos that were created over thousands of years by waves and wind. You will spend the night on one of the traditional boats on the bay. There is a chef on board who will teach you how to make vegetable flowers and show you how the fishing nets are used by the locals.
Overnight in Halong Bay
Meals: Breakfast / Lunch & Dinner with Seafood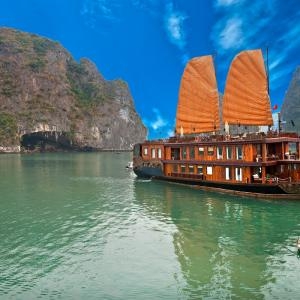 Day 4 – Halong Bay - Hanoi - Hue
Take a bus back to Hanoi (approximately 3.5 hours), then board an overnight train bound for Hue (approximately 12 hours). Although conditions are basic, overnight trains are a rewarding experience. It's an efficient way to travel long distances and a great way to get a sense of the country.
Notes: Sleeper trains typically have four berth compartments (occasionally six berth, depending on seasonal variations and group configuration) with bench seats that convert into sleeping bunks. A sheet, pillow and blanket are provided, although some travellers prefer to bring their own sleeping sheet. On occasion, passengers of different genders will be required to share a compartment and there will be occasions where you'll be sharing with local travellers or travellers who are not part of your group. Most trains have a dining carriage serving simple food, but some travellers take the opportunity to stock up on fresh bread, cheese and fruit prior to departure.
Overnight train
Meals: Breakfast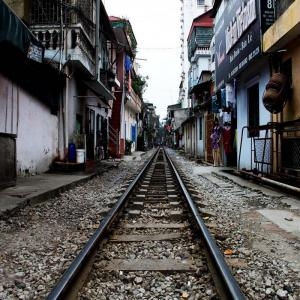 Day 5 – Hue
Hue is Vietnam's former royal capital and its cuisine is considered by many Vietnamese as the best in the country. The food is influenced by its imperial heritage (small dishes and a focus on aesthetic presentation) and its strong Buddhist heritage (reflected in the high proportion of vegetarian restaurants in the area). Enjoy a classic Hue breakfast of bun bo Hue, a popular Vietnamese soup containing rice vermicelli (bun) and beef (bo), Then embark on our tour of the city's imperial monuments. On the back, start your tour of Hue by visiting Thien Mu Pagoda, an active Buddhist monastery since 1601. Here you'll see a car that belonged to one of the self-immolating monks of the 1963 protests. Then take a dragon boat cruise on the Perfume River (approximately 40 minutes) before getting back to today's special lunch stop (in a nunnery). After lunch, visit the royal tomb of Emperor Tu Duc before heading back to Hue. This evening, perhaps ask your leader for the best place to try imperial street specialties like banh hue (rice flour cakes stuffed with shrimp, pork and spices).
Notes: The Perfume River trip may not be available during festival periods. In this case you will travel by land to reach the activities. Most groups will visit either a Buddhist nunnery or monastery and have lunch while in Hue. The lunch not only provides economic benefits to these institutions, which rely on donations to survive, but also gives an insight into the unique traditions and food of Vietnamese Buddhism. Due to the high number of passengers visiting Hue, six different monasteries and nunneries are visited so as to share the wealth and minimise impact.
Overnight in Hue
Meals: Breakfast / Lunch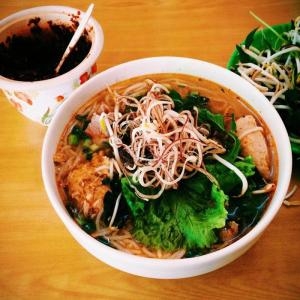 Day 6 – Hue - Hoi An
Embark on a bus tour of Hue in the morning. This will take you to the Imperial Citadel, which includes the Forbidden Purple City. Gaping holes left by bombs will give you an idea of the destruction wreaked upon the country during the war. Then head south by bus through coastal rice paddies and traverse the mountainous Hai Van Pass. After a brief visit to the beautiful My Khe Beach, arrive at Hoi An (approximately 4 hours). The beautifully restored Hoi An retains the feel of centuries past, making it the sort of place that grows on you the more you explore it. Take the chance to do some shopping and perhaps get some clothes tailored. There's a great array of original paintings, handcrafted woodwork, ceramics, embroidery, lanterns and fabrics on display. On arrival, your leader will take you on an orientation walk around the Ancient Town. In the evening, pull up a plastic chair at a communal table alongside locals and learn how to make one of central Vietnam's most celebrated dishes, banh xeo, at a classic street-side, no-menu restaurant where locals go.
Overnight in Hoi An
Meals: Breakfast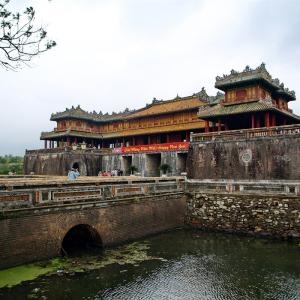 Day 7 – Hoi An
Today you will learn about central Vietnamese cuisine and how to prepare it using its signature vegetables, herbs and spices. Start with a guided bicycle tour of the herb gardens of Tra Que Village. At the local market you'll be introduced to a wealth of produce. After purchasing some ingredients, head back to Hoi An for a hands-on lesson in some classic central Vietnamese dishes. You'll also pick up some cooking and cutting techniques that will put you in good stead to recreate these dishes at home. Then of course it's time to feast on your creations. The rest of today is free for you to pick up any made-to-measure items, or perhaps try more delicious food in one of Hoi An's many acclaimed restaurants.
Overnight in Hoi An
Meals: Breakfast / Lunch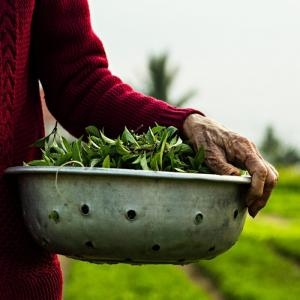 Day 8 – Hoi An Free Day
Enjoy a free day to relax, shop or simply stroll around to take in the delightful ambience.
Overnight in Hoi An
Meals: Breakfast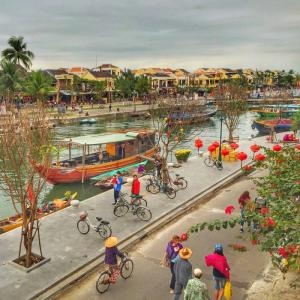 Day 9 – Hoi An - Ho Chi Minh City
Take the short flight to Ho Chi Minh City (approximately 1 hour). Take a guided tour to get a feel for the city's frenetic, fascinating blend of old and new, East and West. You'll go to the War Museum, GPO and Notre Dame Cathedral, finishing up at one of Vietnam's most pulsing markets, Ben Thanh. This is the perfect place to pick up any last-minute snacks, cooking utensils, ingredients, or presents for friends and family before you return home.
Overnight in Ho Chi Minh City
Meals: Breakfast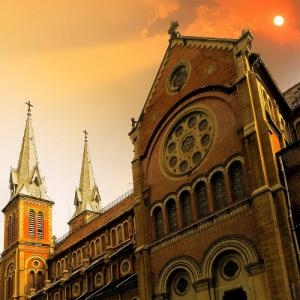 Day 10 – Ho Chi Minh City & Mekong Delta Homestay
Take a private bus out to the Mekong Delta (approximately 2–3 hours). Touring the floating markets by boat, you'll come across local barges full of fruits and vegetables and other local products, including fish sauce and soya sauce. Purchase some ingredients for dinner, then head to some workshops to observe local food industries (the production of rice paper, coconut candy, pop-rice and popcorn). The boat will then take you deeper into the countryside along smaller canals, past local farms and producers. You'll have the opportunity to see traditional methods of catching fish or collecting fruits (depending on the season). Check in at the homestay and cook some local southern Vietnamese dishes with your hosts. Enjoy dinner with tea or rice wine and take the chance to chat with your hosts and learn more about the Mekong way of life.
Notes: At this homestay you'll sleep on a simple camp bed in a dorm-style arrangement. Bedding and mosquito nets are provided. Shared toilet and bathroom facilities are basic, with cold water only.
Overnight at Homestay
Meals: Breakfast / Lunch & Dinner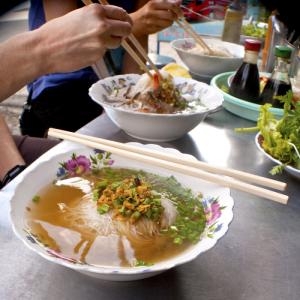 Day 11 – Mekong Delta - Ho Chi Minh City
Return to Ho Chi Minh City by bus. For the final evening of your adventure, enjoy a unique cooking class on southern Vietnamese cuisine with one of Vietnam's most celebrated food personalities. Sit down and enjoy the delicious feast when it's all over.
Overnight in Ho Chi Minh City
Meals: Breakfast / Dinner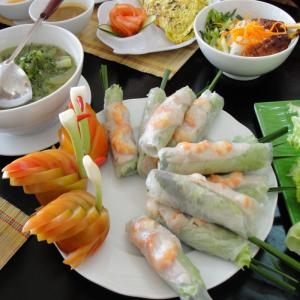 Day 12 – Ho Chi Minh City
Your trip comes to an end this morning. You're free to depart the accommodation at any time.
Meals: Breakfast